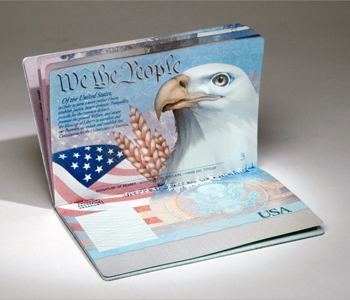 When should you get this started? Just after you read the rest of this information- in other words, today! Typically, it takes about 8 weeks to apply and receive your new passport, so it's best to get started as soon as possible—even if your travel is months away.
Listed below are the documents that in most cases will be required when applying for a passport:
The U.S. Government's DS-11 Application

Download the application from the government site to be certain you have the latest form. You will need to complete this form, but DO NOT SIGN it until you are at the passport location where the Passport Acceptance Agent will instruct you. If you sign the application form before you arrive, it will not be accepted and you will be asked to complete a new form. Don't use white-out or correction tape on the application. If you do, you will be asked to complete a new form.

Proof of citizenship

You may use any of the following methods to prove your citizenship:

Certified birth certificate issued by the city, county or state*
Certificate of Citizenship
Naturalization Certificate

Current valid identification

with a signature, photo and physical description (your height, weight, etc.) –a social security card is not considered valid identification.

Naturalization Certificate
Valid Driver's License
Current Government ID (city, state or federal)
Current Military ID (military and dependents)

2 current color photos

Believe it or not, there are very specific requirements for the photo shots. Most post offices and print shops take Passport photos for a fee and you can call around for pricing information. Below are the photo requirements:

2 Identical photos
In color
2 x 2 inches in size
Taken within the past 6 months, showing current appearance
Full face, front view with a plain white or off-white background
Between 1 inch and 1 3/8 inches from the bottom of the chin to the top of the head
Taken in normal street attire:

Uniforms should not be worn in photographs
Do not wear a hat or headgear that obscures the hair or hairline
If you normally wear prescription glasses, a hearing device, wig or similar articles, they should be worn for your picture
Dark glasses or nonprescription glasses with tinted lenses are not acceptable unless you need them for medical reasons (a medical certificate may be required)

Methods of payment

Visit the U.S. Government site for the methods of payment. Different locations accept different forms of payment. Be sure to check with your individual passport location to verify its acceptable methods of payment. You can request Expedited Service to obtain your passport faster than the normal processing time.
Get the most current passport requirement information at the U.S. Department of State website at http://travel.state.gov or call the U.S. National Passport Information Center at 877-4USA-PPT.