Spending Money On The Ship
The ship is a cashless system and all purchases will be made using your room key card. You will be using your Room Key Card for purchases such as: a trip to the spa, a café latte, or a magnet from the gift shop, or a picture from one of the formal nights.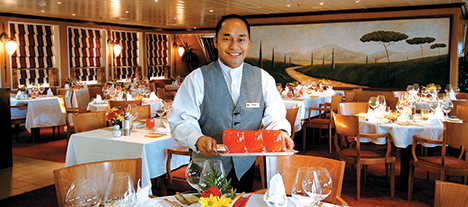 Gratuities
Gratuities are not included in the cost of the cruise. It is customary for gratuities to given to your cabin steward, assistant waiter, waiter, and headwaiter. Cruise lines are now making gratuities more convenient for passengers by allowing you to charge them to your shipboard account. On one of the last nights of the cruise, your cabin steward will leave the tip vouchers and envelopes in your stateroom. On your last night you will need to bring the wait-staff tips with you to dinner, and your steward's gratuities can be left in your stateroom.
For example, when you go to a restaurant and have an excellent waiter, you may want to tip more than the usual 15%.
You will find Ship crew come from all over the world, and while they are working they usually send their paychecks home to their families. If any of you're wait staff went up and above as many of them do, you are more than welcome to tip more according to what is comfortable to you. The cruise line has broken down gratuities by day for each of the staff according to their duties so you are not required to add extra unless you would like to.
Love Offerings
Love offerings will be taken for the speakers of the conference. Like any offering you are welcome to use cash, check, and some will have the envelopes that will allow for credit. If you think you may want to give, plan to pack extra money or bring your checkbook.
Conference Souvenirs
Speakers have been encouraged to bring their books and CD's to the conference. Most of our speakers have the ability to accept credit cards as a form of payment for purchase of their products.
Port Spending
Once you step off the ship, the method of currency changes. Depending on the destination, you will return to a cash based system. It is important to be prepared with cash for currency exchange when cruising internationally, as it will be more risky to use your credit card internationally. Whenever you travel, always notify your credit card company that you are traveling, and remember to provide the destinations that you will be visiting, and the dates in which you will be gone but more importantly when you will be returning. This is very important because you're credit card company may decline purchases as a security measure to prevent fraudulent charges and identity theft. It would be disappointing to have your heart set on something but not be able to purchase because your credit card was declined. As you can see below, most Heavenly Cruises destinations uses or accepts U.S. currency. For countries that do not accept U.S currency, the ship will have a currency exchange available for your convenience and safety.
| | |
| --- | --- |
| MEXICO | PESOS |
| CARIBBEAN | US DOLLAR |
| ROME | EURO |
| GREECE | EURO |
| TURKEY | TURKISH LIRA |
| ISREAL | ISRAELI SHEKEL |
| EGYPT | EGYPTIAN POUND |
| ENGLAND | ENGLISH POUND |