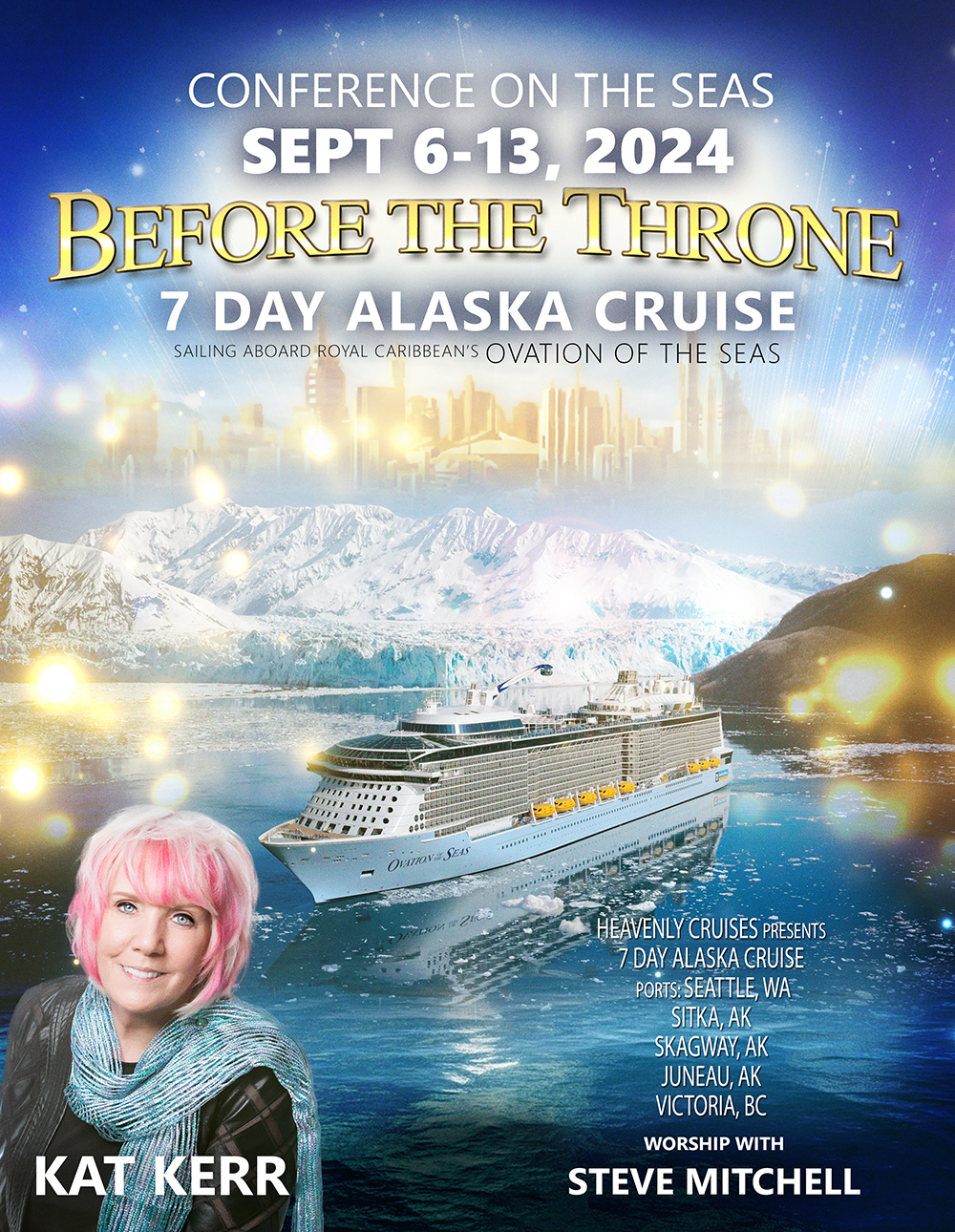 Journey with us on a
7 Night Alaska Conference Cruise with
Kat Kerr and Steve Mitchell.
A land of rugged mountains, coastal forests and diverse wildlife, we set sail to Alaska aboard Royal Caribbean's cruise ship "Ovation of the Seas". Be ready for powerful teaching, impartation and fellowship with Kat Kerr and Steve Mitchell. Conference room space is limited so register with HeavenlyCruises.com to secure your reservation.
Leaving from:
Seattle, Washington
Onboard:
Ovation of the Seas
Dates:
September 6 – 13, 2024
Day
Port
1
2
3

Sitka, Alaska
Docked 10:00 AM – 5:00 PM

4
5
6
7

Victoria

, British Columbia

Docked

5:00 PM – 10:00 PM

8
Pioneer Alaska onboard Ovation of the Seas®, one of the world's most groundbreaking ships. Go scenery scoping from the unrivaled perspective of the North Star®, the highest vantage point on any cruise ship. Gaze at brilliant blue glaciers and majestic waterfalls from the pool deck. And in between adventures onshore, fill each sea day with thrilling activities like surf sessions on the FlowRider®, simulated skydiving on RipCord® by iFLY®, and so much more.
Get started with a 1-night pre-cruise stay in Seattle, Washington. Includes hotel, breakfast, port & airport transfers. *Prices for pre-cruise hotel packages are additional, extra nights are available upon request.
Booking a conference cruise with Heavenly Cruises gives you exclusive access to all conference meetings, event gatherings, and meet & greet meetings with the speakers.
*Only Heavenly Cruises is able to issue access to this conference event, including coded name badges that secure your entrance to every event gathering. Booking through an outside travel provider cannot reserve a spot for you in any of the event gatherings.
 Monthly Payment Option
Monthly installments are available. Prices include 7 night cruise, stateroom, conference fee, government taxes and port charges. Prices are per person based on double occupancy (air transportation not included in price). Cruise deposit is $250 per person. Transfer quotes to and from the port are available. Travel insurance quotes are available. Flight and hotel quotes are also available. Prices are subject to change, so lock-in these rates today.
book with confidence
Be sure to book through Heavenly Cruises.
This event is exclusive to those who book in
advance through Heavenly Cruises. Booking
through a secondary travel agent on the same
cruise ship will not permit you entrance to any
event meetings.
Call: (209) 588-9565
MON – FRI 8:00AM – 5:00PM (PACIFIC TIME)