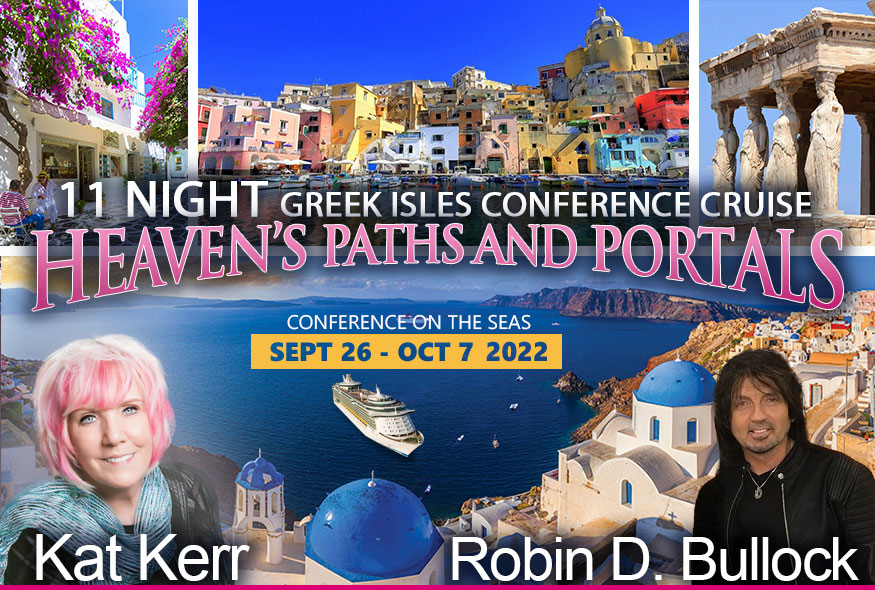 Journey with Kat Kerr and Robin D. Bullock, to hear incredible teachings and new revelations, and learn how to operate in Heaven's Paths and Portals. Sailing aboard Celebrity Reflection on a spectacular cruise to the Greek Isles! Experience the historic Mediterranean destinations, soak in the dramatic scenery, and walk the streets of some of Europe's oldest cities. 11 Night Conference Cruise with Kat Kerr and Robin D. Bullock. Departing from Rome, Italy.
Space is limited so register early!
Booking a conference cruise with Heavenly Cruises gives you exclusive access to all conference meetings, event gatherings, and meet & greet meetings with the speakers.
*Only Heavenly Cruises is able to issue access to this conference event, including coded name badges that secure your entrance to every event gathering. Booking through an outside travel provider cannot reserve a spot for you in any of the event gatherings.
11 Nights, 8 ports, and 2 sea days onboard Celebrity Reflection
Departing from Rome (Civitavecchia), Italy

DAY 1
Rome (Civitavecchia), Italy
Mon, Sep 26, 2022

Departs: 5PM
DAY 2
Sicily (Messina), Italy
Tue, Sep 27, 2022

Docked: 10AM to 8PM
DAY 4
Santorini, Greece
Thu, Sep 29, 2022

Tendered: 7AM to 7PM
DAY 5
Mykonos, Greece
Fri, Sep 30, 2022

Tendered: 7AM to 5PM
DAY 6
Istanbul, Turkey
Sat, Oct 1, 2022

Arrival: 11AM
DAY 7
Istanbul, Turkey
Sun, Oct 2, 2022

Departs: 1PM

DAY 8
Ephesus (Kusadasi), Turkey
Mon, Oct 3, 2022

Docked: 9AM to 5PM
DAY 9
Athens (Piraeus), Greece
Tues, Oct 4, 2022

Docked: 6AM to 6PM
DAY 11
Naples, Italy
Thu, Oct 6, 2022

Docked: 7AM to 6PM

DAY 12
Rome (Civitavecchia), Italy
Fri, Oct 7, 2022

Arrival: 5AM
Get started with a 2-night pre-cruise stay in Rome, Italy. Includes hotel, breakfast, port & airport transfers. *Prices for pre-cruise hotel packages are additional, extra nights are available upon request.
Inaugural Date : October 12, 2012
Celebrity Reflection recently received several enhancements. Now, you can enjoy more than 20 delicious dining options in the Main Restaurant. Unwind in your own cabana-style haven at The Alcoves and Celebrate the flavorful joys of outdoor grilling at the Lawn Club Grill. Your vacation time is precious; we'll make sure to make the most of it.

Monthly payment installments are available. Prices include your 11 night cruise, stateroom, conference fee, government and port charges. Prices are per person based on double occupancy. Cruise deposit is $450 per person. Transfer quotes to and from the port are available. Travel insurance quotes are available. Flight and hotel quotes are also available. Prices are subject to change, so lock-in these special rates today.
Junior Suite
Call for prices
Be sure to book through Heavenly Cruises. This event is exclusive to those who book in advance through Heavenly Cruises. Booking through a secondary travel agent on the same cruise ship will not permit you entrance to any event meetings.
call pastor sharon: 209-588-9565