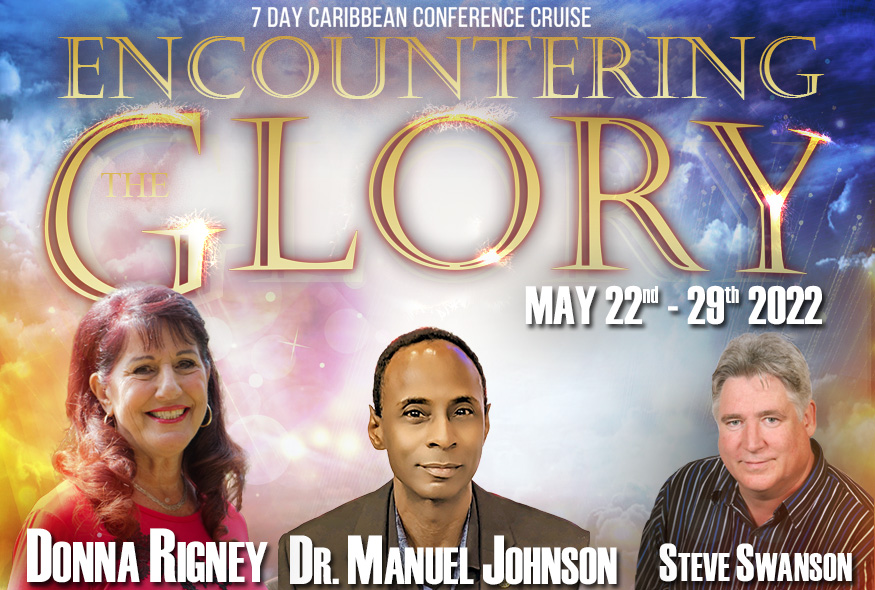 Journey with us on a
7 Night Western Caribbean
Conference Cruise with
Donna Rigney, Dr. Manuel Johnson and Steve Swanson.
Experience the Caribbean islands from the luxury of the cruise ship "Liberty of the Seas". As we Encounter the Glory, be ready for powerful teaching, impartation and fellowship with Donna Rigney, Dr. Manuel Johnson, and heavenly worship with Steve Swanson. Conference room space is limited so register with HeavenlyCruises.com to secure your reservation.
Leaving from:
Galveston, Texas
Onboard:
Liberty of the Seas
Dates:
May 22 – 29, 2022
Day
Port
1
2

Cruising

Day At Sea

3

Puerto Costa Maya, Mexico

Docked 11:00 AM – 7:00 PM

4

Roatan, Honduras

5

Belize City, Belize

Tendered 7:00 AM – 5:00 PM

6

Cozumel, Mexico

Docked 7:00 AM – 6:00 PM

7
8
The adventure's never been bigger — or bolder.
Get ready for a tide turning thrill-a-thon where every adventure is larger than life. Sailing from Galveston, Texas, to some of the most incredible shores in the Caribbean — all while offering plenty of whoa-worthy entertainment, game changing slides, and next level entertainment for an unforgettable cruise you'll remember for years to come.
Get started with a 1-night pre-cruise stay in Houston, Texas. Includes hotel, breakfast, port & airport transfers. *Prices for pre-cruise hotel packages are additional, extra nights are available upon request.
Booking a conference cruise with Heavenly Cruises gives you exclusive access to all conference meetings, event gatherings, and meet & greet meetings with the speakers.
*Only Heavenly Cruises is able to issue access to this conference event, including coded name badges that secure your entrance to every event gathering. Booking through an outside travel provider cannot reserve a spot for you in any of the event gatherings.
 Monthly Payment Option
Monthly installments are available. Prices include 7 night cruise, stateroom, conference fee, government taxes and port charges. Prices are per person based on double occupancy (air transportation not included in price). Cruise deposit is $250 per person. Transfer quotes to and from the port are available. Travel insurance quotes are available. Flight and hotel quotes are also available. Prices are subject to change, so lock-in these rates today.
book with confidence
Be sure to book through Heavenly Cruises.
This event is exclusive to those who book in
advance through Heavenly Cruises. Booking
through a secondary travel agent on the same
cruise ship will not permit you entrance to any
event meetings.
Call: (209) 588-9565
MON – FRI 8:00AM – 5:00PM (PACIFIC TIME)