Before You Depart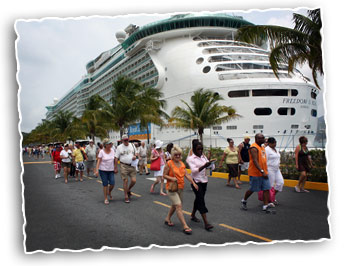 This is always the sad part for us, we spend so much time with you but now our long awaited Ministry Cruise has come to an end. Believe it or not, there is even an art and process to disembarking your home for the last several days. Stick to these tips and it should be a painless and relatively quick process.
Generally speaking, the cruise line will give you a flyer with disembarkation guidelines toward the end of the week and there is some very vital information in these flyers and should be read; the only difference is that Heavenly Cruises disembarks as a group and meeting places will not match up with the flyer provided by the cruise line.
Pastor Sharon and Michael will have bus transfers arranged for those of you who will be flying home or have parked at the airport. Since we always disembark as a group it is very important for Pastor Sharon to have your flight information; this allows us to arrange for the correct color luggage tags that allows our group off with enough time for customs, baggage claim, and transfers to the airport.
Your cabin steward will deliver all of your disembarkation documents to your stateroom on the second to the last night of the cruise. This includes:
Your departure flyer that lists the times that your luggage needs to be outside your stateroom door.
Your tip vouchers and envelopes
Your luggage tags
Your customs form which needs to be filled out before disembarking
Satisfaction Survey which is not mandatory, but greatly appreciated by your waiters and cabin steward.
Just follow these tips, and your disembarkation will be smooth and relatively quick!
Remove the old luggage tags that were attached by the airlines and the cruise line luggage tags provided to you at registration.  Make sure to leave your blue or yellow yarn that was provided by the Heavenly Cruises staff on your luggage until you return home as this will allow for easy identification in both baggage claim at the port and airport upon returning home.  Attach one luggage tag to each piece of luggage.
Remember to leave a change of clothes out when packing your suitcases. You may think this is obvious, you may be laughing at this but in the heat of last minute packing between trips to eat  again… for the tenth time that day…. and the show you plan to attend or the finale meeting you may forget to leave something out to wear off the ship. It is a good idea to have a small carry-on bag to put all your last minute necessities in.
Do not for any reason; pack any medications, your passport, airline tickets, or any other valuable or breakable items in your checked baggage. Again it may sound obvious, but when you are in a hurry or have somewhere you want to be, packing these things may somehow make sense.
Place all checked baggage outside your stateroom door in the hours designated in your cruise newsletter that has disembarkation instructions. Most of the time it will be between the hours of 7:00pm and 11:00pm, however it may vary from cruise line to cruise line so it is very important to read the flyer provided by your steward a couple evening's in advance.
Your credit card will automatically be billed for all room card purchases. It is highly recommended to obtain a copy of your bill before disembarking. This allows you to view all purchases in case of error. It is a rare occurrence but it is better and easier to address discrepancies before disembarking.
When disembarking you will need to have your room card, customs form, and passport accessible until you reach the baggage claim area to ensure a quick and easy disembarkation. They get crabby when you do not have everything ready to go.
Each cruise ship can handle over 10,000 pieces of luggage per sailing which is one reason Heavenly Cruises provides the colored yarn. These brightly colored ties make identification much easier.  Your luggage tags that were left in your stateroom will be a particular color which correlates to what time you were assigned to disembark (e.g. beige, orange, blue, pink), your checked luggage will not be available until your color is called.  Once in baggage claim the corresponding color will show at one of the luggage carousels or baggage areas which is where your checked luggage will be.
Those of you who are flying or have transfers arranged by Pastor Sharon, get your luggage and go directly to the bus area where you will be directed further by your Heavenly Cruises staff members. DO NOT leave baggage claim without all your luggage. This is a secure area and once you leave you will not be allowed back in.
If you are being transferred by one of our busses and should get held up for any reason, please call Michael and communicate what is happening so we know that you will be late. Because our cruisers have flights to catch, it will be impossible to wait for you without communication should you get held up.